Alan Orreal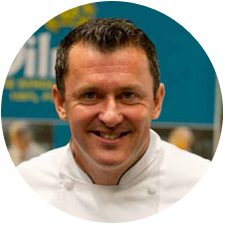 Culinary Director, Food & Beverage Shanghai Disney Resort
Like almost all Australians my age, the first encounter I had with the legendary Merrill J Fernando was during my teens, he was on the television nightly enticing us all to "Do Try It". As a teenager I didn't think much of it at the time except to think that Ceylon
sounded like a fantastic exotic far off place, that clearly, if MJF was to be believed, grew "the world's finest tea" and I thought that I might visit there one day.
It was not until years later as a young Chef I came to appreciate not just the tea but also what it was that Merrill J Fernando was up too with his Dilmah Tea Brand, Ethical Tea, Single Origin, Vertical Integration, Workers Empowerment, Conservation (long before any of them were buzz words) and his foundations Humanitarian work, it was all very impressive. While the tea was certainly as it claimed to be "the world's finest", there was much more to his vision and this is self-evident in in their company philosophy that "Business is a matter of human service".
Time passed by and now I was in my mid 30s yet still to visit Sri Lanka, but on a warm spring day in 2004, I got a call with an extraordinary job opportunity. So I would not be visiting Sri Lanka but would move there and that experience would shape my life in such profound ways that I could have never imagined but that I am extremely grateful for.

The country itself faced many challenges not the least of which was the aftermath of the Tsunami and the ongoing struggle with the LTT and making matters worse was internal political landscape that was itself a war zone. However, Dilmah it seemed to me to just quietly went about its business just to get on with it all, not making a fuss but remained laser focused on its people its producers and providing for the poor and less fortunate.
As an Executive Chef living in Sri-Lanka I stand witness to the extraordinary work Dilmah was doing and continues today. I was often invited to product launches, fund raising dinners, competitions and food fares where Merrill and his son Dilhan would be there supporting and organizing. During my time in Sri Lanka and for all the years after, Merrill and Dilhan became and have remained my close friends and we have shared many dinner tables and afternoon teas together.
I have had the privilege to see firsthand in 2014 during the Chef and the Teamaker tour, the delivery of a promise that doing "business is a matter of human service" , the work of the MJF Foundation and its many projects spanning Schools for the less fortunate the differently abled for the blind, to housing projects and empower Culinary Hospitality inspirational School just to name a few. The
Conservation work that Dilmah supports remains a pillar of Merrill's dream
It is no surprise then that Merrill continues today to be a beacon of hope that quality & integrity can and must be a cornerstone of doing business. He is one of the most widely admired and inspiring leaders of his generation and an Icon of the global hospitality food service industry. In short a "Living Legend!"
Many Happy Returns for your 90th Birthday and Congratulations on a lifetime devoted to Tea.