Amrit Fernando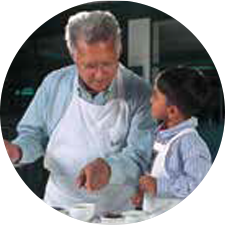 Grandson of Mr. Merrill J. Fernando
One observation I have made over all these years attending Charitable events, meetings and conferences was the passion my grandfather expressed. Siya's passion comes in many forms, as an entrepreneur he carved his own way through the tea industry and made a name for Sri Lanka.
Siya would share stories of his beginnings as a teataster and businessman, how he sold his first cup of tea out of his car, all the way to opening of the new factory. I admire and honour Siya for his drive.
Siya's drive is fueled by something spectacular, his love for people, especially the disadvantaged community. One of the most memorable moments was at the Foundation, on World Down Syndrome day. Siya stepped on to stage, as the first ten words were said he broke into tears. For he loved those children like they were his own. From that day I knew the purpose of our family business and why my grandfather works tirelessly to achieve greater things. Siya is one of the few men who express such care and love for everyone he meets.
Through his endless acts of kindness my grandfather continues with humility, every step he takes he looks to God and honours his name in every way. When I go with Siya to office, before he steps in, outside is a 21 ft pillar honouring the name of God. Siya prays and enters the building, blessing the day ahead and the success of Dilmah. No matter who approaches him, he treats them with the same respect as he would anyone, from the workers on the planation to clients, it matters not to him, for the person inside is what he values and responds too. I love my Siya and there are no words to describe what he has done for many us by being a role model, leader and loving grandfather.