Ayinkarathasan Pathmapriyan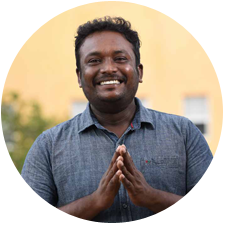 Premises Manager at MJF Centre - East
Thank you, Merrill J. Fernando, for thinking of us - the people of East. Thank you for pushing us forward to help us emerge brighter and bolder than before.
In 2017, I was involved in the MJF Centre East - Construction Project as the Contractor.Upon its completion, I was recruited as the Premises Manager at the Centre to oversee the responsibilities of groundwork. In my role, I work to ensure that the maintenance and operations of the site, buildings and utilities are carried out to the required standards.
Prior to joining MJF Centre East, I worked on several Peace Projects by INGOs as a Quantity Surveyor. But I never got the opportunity to work directly with the communities from disasteraffected areas. Thanks to the MJF Foundation, I was finally able to fulfil my wish of wanting to work with people. The new role allowed me to turn my ideas into spaces by giving me the chance to create an inclusive learning environment for our beneficiaries. Our Centre features architectural elements that are sustainable, modern, and most importantly—accommodating. As a team, we put a lot of thought into the Master Plan of this project to maximize the quality of life and independence of people with mobility issues. The pathways, ramps, classrooms, washrooms and play areas in this Centre are designed with ample green spaces, spacious classrooms and ergonomically crafted furniture that aid one's psychological well-being.
MJF Centre - East provides a nurturing and interactive environment for children & youth to learn to connect, access resources and share knowledge beyond the confines of their classroom. Our programmes are designed to foster active engagement and participation of people. We work with surrounding communities and exchange ideas to see what measures are reasonable and effective to better address their needs. Managing a 23-acre land with people is a challenging job that requires a concerted effort by the Premises Manager. I always make sure that we are better equipped to respond to the interests of our beneficiaries and face foreseeable challenges. I have big plans for the future. My dream is to make a positive impact on children and youth from our local villages by setting up an innovation Club at the Centre that will allow curious young minds to create, innovate and find efficient and sustainable solutions to day to day problems.