Daron and Shirley Curtiss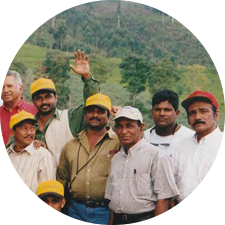 Advertising Partner, New Zealand
"Do try it!"
It was mid-1994, Waves Communications was a small New Zealand advertising agency on a roll – a list of successful clients both local and international and under the stewardship of Daron Curtiss.w
Then one morning out of the blue a phone call came that would change the future of the agency.
Unbeknownst to Daron the caller was one Merrill J Fernando, casting about for an ad agency. With just a small presence in New Zealand the Dilmah brand desperately needed more market share and Merrill stated that he was looking for fresh new ideas.
"Of course we met and Merrill being Merrill, he wanted ideas straight away, however I admitted to him that I knew little about the tea market and even less about Dilmah and would need more tim". Merrill's response was that he would be back in 9 months and that Waves should present their ideas then.
Out of In a sheer coincidence, Shirley, Daron's wife, had started purchasing Dilmah a few weeks earlier and the couple had become converts. "It was splendid tea just like it should be" was the consensus.
That experience combined with Merrill's enthusiasm and passion for his Dilmah enthused Daron to research the tea market, the competitors and their advertising styles. "I was struck by Merrill's unwavering passion – not just in terms of sales made and dollars earned, but in the importance he placed on ethical production, quality, tradition and his willingness to share and discuss his Dilmah in every detail."
Merrill J Fernando returned just before Easter 1995 and got in touch as promised asking for the presentation. "We had literally heard nothing for months" recalls Daron.
Daron's strategy was to drop the current campaign featuring Sri Lankan singing star Kamahl and to build the Dilmah brand around Merrill and his passion, and they presented a new TV and print campaign focusing first on Merrill and then on Dilmah.
"When out and about meeting customers Merrill would often urge 'You must try it' and it was from this we developed the 'Do try it' slogan. The only thing that remained was to convince Merrill that he should become an icon along with his Dilmah brand image.
Initially resistant to the idea, Merrill rang back the next day saying, "I'll be back in Auckland in two days, you've got me for half a day for the shoot" recalls Daron. "We had to source a crew, location, sets and set dressing in two short days, and finetune the script to make it more 'Merrill'."
The only 'firm' direction Daron recalls giving to Merrill during filming was to slow his delivery down and to get him to pitch his voice lower.
"Merrill had so much passion for his tea and so much enthusiasm that he began speaking a hundred miles an hour. By slowing his delivery and lowering his pitch we captured the real personality of the man. Finally after a few practice runs Merrill looked down the lens, smiled and delivered his Dilmah story as only Merrill can. I was convinced then that we had a living legend in the making."
Merrill was nervous at seeing himself on screen and was not so sure. He left saying in a matter of fact manner, "When I return if this hasn't worked I will find someone else".
When Merrill did return to New Zealand some months later he was greeted at the Customs counter by an Officer who instantly recognised him saying, "You're that guy on TV" recounts Daron.
Merrill's only concern was his 'head and shoulders' shot in the print ads which was captured while filming the television commercial, and it was following the 'head and shoulders' reshoot that he received more proof that the Dilmah campaign was working.
After the 'head and shoulders' reshoot we were getting into my car and there was a car of 18 - 19 year olds parked next to us. They rolled down their windows and mimicked, 'Do try it' at the top of their voices.
Daron has been continually struck by Merrill's commitment to his vision and his family…and by his loyalty to those who helped him achieve his dream.
"I recall the first time we went to Sri Lanka to film. Merrill insisted on putting Shirley and me up in his home and welcomed us into his family.
Merrill quickly became a dear friend…a friend we admire immensely."