Ediriarachchige Sarath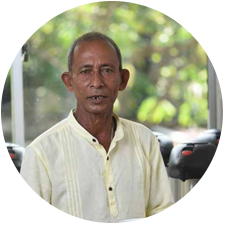 Tea Maker at MJF Centre, Moratuwa
I have been serving tea for the staff and beneficiaries of MJF Moratuwa for almost a decade now. When I joined, I made only 25 cups of tea per day. Today the number of cups have increased to 250 as the Centre grew with more people and programmes. In addition to making tea, you will find me at the bank, post office and on the road fulfilling my assigned responsibilities of the Centre. There's never a dull moment here. Our Centre is always filled with a flurry of activity - and this keeps our energy flowing throughout the day. What I like about this place is the beauty of seeing children & youth of different abilities, teachers, and parents in one place, interacting with each other as one community.
A cup of tea can bring smiles to many tired faces. Tea time at our Centre is a moment for people to recharge, reflect in thoughts and connect with friends. I consider it a blessing to provide my services - even in a small way - to an organisation that benefits communities who need our love and support.
Thank you, Merrill J. Fernando, for the tremendous amount of work you do at the MJF Centre to uplift the lives of vulnerable people from our society.