Jane Pettigrew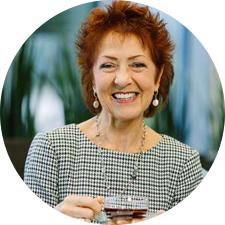 Director of Studies, UK Tea Academy
Merrill's care and concern for those in need is astonishing, heartwarming, and a lesson to us all.
A Cup of Kindness
I can't pinpoint the exact date that I met Merrill Fernando but I think it was in the early 1990s when I was editing Tea International, a trade magazine published by the UK Tea Council. That was such an interesting time for tea as an international resurgence of interest in good loose leaf tea brought so many of us together at conferences, shows, and other tea gatherings. Once I became aware of Dilmah and learnt more about Merrill's life in tea, I realised how he had constantly worked so hard to change the face of the tea trade in Sri Lanka, fighting to wrest the industry away from British control, dedicating his time to setting in place new systems that would benefit Sri Lanka rather than London, caring about the people who worked for the company and for the wider community.
Spending time with Merrill and chatting about all things tea gave me a totally new perspective on the international trade, the way in which the old routines worked against the welfare of the people who grew, plucked, processed and marketed tea. Spending time with Merrill and listening to his ideas and stories has always been inspirational.
And then he asked me to write the Dilmah biography, and so I flew to Sri Lanka and spent the next couple of weeks shadowing him in his daily routine in Colombo at Dilmah Headquarters, spent time with him at his house, travelled up into the hills and enjoyed time with him and his family, visiting the tea gardens and relaxing in the old planters' bungalows that the company converted into beautiful, luxury holiday homes. As we travelled and worked together, I learnt his entire life story, from the age of 20, when he was apprenticed to train as a tea taster on Colombo to his worldwide fame today as a major supplier of the best teas Sri Lanka can offer into world markets. He talked about his time training with a tea wholesaler in London, his recognition, once back home, of just how determined he would have to be to ensure a fair future for Ceylon tea, his energetic work with various trade bodies, committees and associations, and everything that happened during and after the country gained its Independence from Britain. As he chatted and explained, it was very clear to me that Merrill never does things by halves, never becomes involved in anything without giving it every possible moment of his time, every single ounce of his energy, every careful consideration and insight. And I also realised that his concern has always been not just for tea and the success of Dilmah, but about how that success could be harnessed for the well-being and future success of others in the community. By simply growing, processing, blending and marketing great quality tea, Merrill has brought so much health and happiness to those of us who love tea, but he has also made sure that the profits from those wonderful cups of our favourite beverage are ploughed back into the lives of the workers on the tea estates and in the factories to make absolutely sure that the workforce is well looked after. And I am always moved to the verge of tears when I think of how Merrill and his family rushed to help the villagers in Negombo who suffered in the 2004 tsunami, how they support Sri Lanka's blind cricket team, local entrepreneurs, sick children and children with special needs, and so much more. Merrill's care and concern for those in need is astonishing, heartwarming, and a lesson to us all. I think the title I chose for the Dilmah biography, A Cup of Kindness, says everything about my regard for Merrill Fernando, for his life and his work in tea have always been all about kindness, generosity, thoughtfulness and humanity. I feel so so honoured to know him, to have been able to spend time with him, to learn from him and to understand just what it means to be a truly good human being.