K.S Perera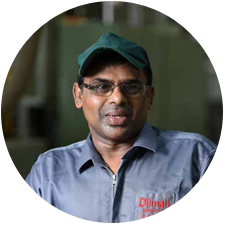 Senior Technician at Dilmah
In 1993, I became a permanent employee at Dilmah, transitioning from a factory labourer to a Training Operator. Today I work as a Senior Technician in the Engineering Department. It's an incredibly rewarding profession that has given me stability, growth and personal fulfilment. Over the last 3 decades, my personal and professional life has seen a series of significant changes. I have
been able to provide a good life to my wife andtwo children thanks to the benefits I received from Dilmah.
This company gave me a chance to go above and beyond my job. During the last 10 years, I got the opportunity to visit Egypt and Poland for training programmes. It was then I felt the international recognition and respect Our Chairman has won from people around the world.
MJF made a name for himself in the globe through his pure passion and devotion to tea that earned Dilmah its world-renowned appeal. He is a noble individual who is always hard-working, helpful & generous with everyone.