Ms. Kavindi Akurugoda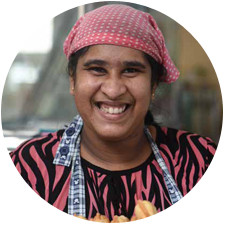 Sales Assistant Swashakthi Bakery & Tea Room - Moratuwa
"Watching her progress and seeing her grow into a professional over the last 3 years has been amazing" says Kavindi's culinary instructors

Kavindi is the one to welcome you to Dilmah's Swashakthi Bakery and Tea Room with a warm and cheerful smile. She is deeply committed to
her job and always puts her customers first. The Rainbow Youth at MJF Centre Moratuwa trains young women and men with intellectual disabilities in a vocation of their preference and encourages them to engage in productive means of work that will enable them to find a job. Today, women like Kavindi are making a living out of their skills and strengths thanks to the opportunities given by Merrill J. Fernando.
"Watching her progress and seeing her grow into a professional over the last 3 years has been amazing" says Kavindi's culinary instructors.
Kavindi was born with learning disabilities and encountered countless challenges as a young woman in accessing opportunities in life. Raised by a single mother, Kavindi had to endure financial hardships at home. But she did not want to idle away her time at home and started looking for a way to keep herself busy and employed. 4 years ago, Kavindi joined the Rainbow Youth at MJF Centre, Moratuwa to pursue her interests at the Vocational Training Unit. She mastered the basics of Culinary Arts at Empower Culinary and Hospitality School and nurtured her passion for cooking and baking further under the guidance of Gratian. She has been working as a Sales Assistant at MJF Foundation's Swashakthi Bakery and Tea Room for more than a year now. Her daily duties range from cleaning, serving and making tea. With the income she earns, Kavindi takes care of her mother and lives a decent life. She makes use of her free time by learning IT, English and taking part in Girl Guide camps at MJF Centre Moratuwa.