Lakshman Perera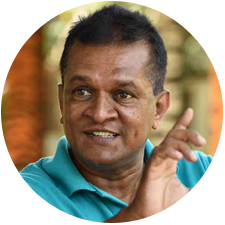 Music Instructor at MJF Centre, Moratuwa
The MJF Centre in Moratuwa gave me the freedom to go further out of my comfort zone and share the wholesome pursuit of making music with children with disabilities. Here, we always work together as an inclusive community.
You would find parents, staff, children and youth of different ages and abilities joining our daily sing-alongs and Baila sessions. I feel a great sense of satisfaction upon seeing their faces beaming with feelings of relief, excitement & joy - this is the best reward I could get for what I give. I would like to thank Merrill J. Fernando & Dilmah Family for believing in me and giving me the opportunity
to use my years of experiences as a musician and technical officer in the telecommunications sector to make a positive impact in the lives of people who need to have their spirits lifted up!
Music heals. It has the therapeutic effect to help children with Autism, Cerebral Palsy and other Developmental delays to contain their negative energy, maintain focus, stimulate creativity through sounds & rhythms. I encourage these children to explore their musical inclinations & indulge in sensory experiences by letting them play different instruments. Our Rainbow Drumming Band consists of a talented team of youth who have Down Syndrome. For years, they have been wowing audiences with their captivating performances on stage. They continue to drum the beats to our hearts, break stereotypes and stigma with their unique style.