Mohamed Refaie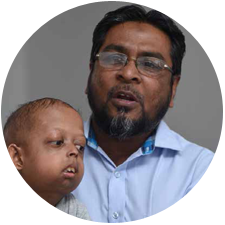 Parent of a child with a disability from MJF Rainbow Centre - East
The Rainbow Centre in East opened my son to new possibilities and new opportunities he never had. As his parents, we are extremely relieved to see Shakir living his best life today at the Centre. Thank you, Merrill J. Fernando, for showing us your heart to the
helpless people of the East.
My son Shakir has developmental delays. He eagerly looks forward to coming to the Rainbow Centre - for many reasons. It is a place where he can get around freely because the entire premises is designed to be Disability-friendly. 8-year-old Shakir's face brims with joy when he meets his friends. He usually greets them with a high five every morning before he begins his lessons for the day. Shakir also indulges in his creative side at the Rainbow Centre. He loves music and trains his senses to the rhythm of sounds. His memory has improved drastically within the last 8 months and we have noticed that he can express himself much better now.
The inclusive play area at the Centre brings the little ones at the Rainbow Centre limitless joy. Most of our kids had never experienced the thrill of playing on a swing or taking a ride on the Merry Go Round before. Thanks to the services offered here, children with different disabilities get an immersive learning experience combined with therapy, handson activities and entertainment that enable them to be the best version of themselves."