Nimal & Savitri Gunatilleke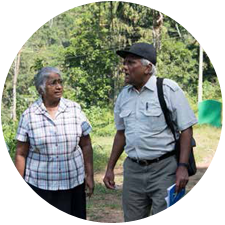 Professors Emeriti, University of Peradeniya
He is a recipient of the Oslo Business for Peace Award in 2015 given in recognition of business persons who 'through their own actions and commitments truly are business worthy
Restoring connectivity among fragmented forests in the Sinharaja Rain Forest Complex: a pioneering initiative of establishing the Endanabiodiversity corridor
Mr. Merrill J. Fernando represents a rare breed of modern day capitalists and was fittingly honored
in the United Kingdom with the FIRST Award for Responsible Capitalism on November 30 2016. He
is championing a distinctive business model, built around a sincere commitment to create and uphold
genuine humanitarian and environmental values by underscoring the sustainable management of both
the social and natural capital.
Dilmah Tea is a singular creation of Mr. Merrill J. Fernando and his philosophy, 'success is not complete unless it is shared', is expressed in his commitment to make business a matter of human service. He is a recipient of the Oslo Business for Peace Award in 2015 given in recognition of business persons who 'through their own actions and commitments truly are business worthy, promoting socially responsible and ethical business practices in an outstanding way, and standing out as examples to the world.'
This noble vision fittingly aligns with the United Nations blueprint to achieve a better and more sustainable future for people and the planet. At the core of this UN blueprint are 17 interconnected Sustainable Development Goals (SDGs). These recognize that ending poverty and other deprivations must go hand-in-hand with strategies that improve health and education, reduce inequality, and spur economic growth. All these, while tackling climate change, strive to preserve our oceans and forests as well.
The sustainable use of the environment contributes to conserve Sri Lanka's unparalleled biodiversity while ensuring the all-important ecosystem services whose changes influence the wellbeing of all living organisms, including humans. Understanding this, Dilmah Conservation has instilled the Dilmah Tea Company's philosophy of 'making business a matter of human service' in its activities that are carried out in partnership with a host of other governmental and non-governmental organizations in Sri Lanka.
We and our research colleagues have partnered with Dilmah Conservation in establishing a biodiversity corridor that would link Walankanda Forest Reserve with Ihara Kanda - (a part of Delwala Kanda forest reserve) in order to restore the ecological integrity of these partially isolated forest fragments among ever-expanding human setllments. This is being done by converting a strip of mostly unproductive tea land methodically into that with native plant species. the re-establishment of this nature corridor, which has hitherto been separated by tea plantations and human settlements for the past 100 years. In addition, measures to engage local communities, enrich their traditional home gardens and provide them with alternative sustainable sources of income such as beekeeping and mushroom and kitul cultivation are being planned in line with the ideals of Dilmah Conservation.
It is heartening to note that the Government recently declared the establishment of the 'Sinharaja Rain Forest Complex'. This will combine over 40,000 ha of neighboring fragmented forests, (including Walankanda Forest Reserve) around the present Sinharaja Natural World Heritage Site (WHS). The Dilmah initiative of establishing a biodiversity corridor linking Walankanda and Iharakanda is indeed a pioneering effort in regaining biological connectivity among these fragmented forests around the Sinharaja WHS. Achieving this connectivity will undoubtedly bring back the former glory of the locally known 'Sinharaja Adaviya'- the crown jewel of biodiversity in Sri Lanka
We wish Mr. Merrill Fernando a happy birthday and congratulate him on his untiring efforts towards realization of his vision of making business a matter of human (and ecosystem) service.'

Nearly 25 ha of Endana Tea Estate land have been allocated for the re-establishment of this nature corridor, which has hitherto been separated by tea plantations and human settlements for the past 100 years.
He is a recipient of the Oslo Business for Peace Award in 2015 given in recognition of business persons who 'through their own actions and commitments truly are business worthy