Peter Kuruvita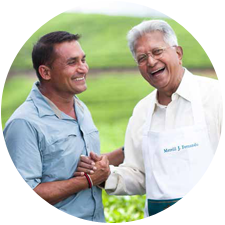 Wishing you a very happy birthday for my self and my family.
Dear Mr Fernando,
Wishing you a wonderful birthday, from the whole Kuruvita family,
It has been an honour to be associated with your brand and family, you are like my second father, your warmth and compassion is never ending.
I have watched over the years as you have transformed people's lives all around Sri Lanka, I have listened to you speak on more than 100
occasions and your words always resonate with love and compassion.
I am sure you are a fierce businessman too, but you have proved to the world that you can be nice to people at the same time. I have taken so much of what you have said and applied it to my day to day life, it certainly makes the world look a lot nicer.
We met in 1988 when you came to Australia to first launch Dilmah. I was head chef of Bilsons, now Quay when a waiter said that a gentleman had asked to say hello. It was Merrill J Fernando; you noticed my Sri Lankan name and we chatted. In 2004 I met Dilhan and we started talking tea gastronomy. I have now for all those years been involved in the promotion of Dilmah tea and my association with the Fernando family have spanned their resorts, tea lounges and affiliations with chefs' associations.
Wishing you a very happy birthday for myself and my family.
In these trying times I am sorry I cannot attend; my thoughts, hopes and prayers are with you and your family, the world needs more MJFs.
Wishing you a very happy birthday for my self and my family.