Prasadhi Perera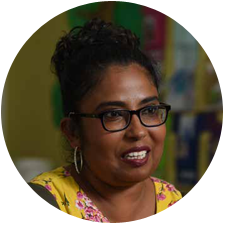 Primary Class Teacher at The MJF Rainbow Centre,
I found the life I was seeking at MJF Centre, Moratuwa. Here, we look beyond anyone's ability, ethnicity, religion to everyone's humanity. Every day through the work, I do with children with special needs, I feel closer to God. My life changed for the better thanks to the opportunity given by Merrill J. Fernando. He is a man of tremendous compassion, warmth and integrity.

Growing up, I felt a strong calling of faith. At my holy communion, I confessed a desire to become a nun to my mother. During the time I was spending my life in a monastery in Rome, Italy ¬¬–– preparing myself to take the final vows, I was diagnosed with Kidney Disease. I had no choice but to settle with an "ordinary life'' in Sri Lanka. Life got in the way but I did not give up. I devoted my time to volunteer at MJF Centre Moratuwa and St. Theresa Convent. Since 2016, I have been working as the class teacher for Rainbow Kids with special needs, cherishing life in all its pleasures and difficulties. I had to let go of my dreams but I believe that I was brought here for a reason - to be with children who deserve my love, care and support.