Rajan Asirwatham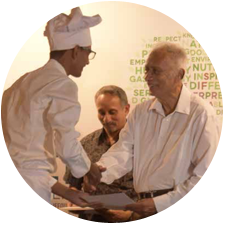 It is such a joy to attend the annual concert and watch these differently abled and under privileged kids from all over the country perform so admirably
It is such a joy to attend the annual concert and watch these differently abled and under privileged kids from all over the country perform so admirably
About 40 years ago, I was summoned by my senior partner and informed that Mr. Merrill Fernando wanted a special assignment carried out. Since it was of a confidential nature there was no written brief and I was required to go and meet him personally regarding this work. As I was quite low in the pecking order of the firm I defensively inquired as to whether this work should not be carried out by a more senior partner or I if I should go to see him with a senior partner. I was told brusquely, "He wont eat your head off men. He's a very nice man, but he's very smart and sharp. If you do a slipshod job or cut corners I will get to hear of it. Remember he is not one of our regular clients and don't let the firm down." The next day, very diffidently I phoned Mr. Fernando and introduced myself and wanted to know when I could go and see him. Very pleasantly he replied "Ah yes, Pandit told me that he has allocated this task to you, meet me for lunch tomorrow at 12:30 at the Eastern Palace
Restaurant down Duplication Road.". So I went there early and sat in a corner, he came in sharp on time and was looking around as he didn't know me by sight. I quickly walked up to him and introduced myself. Very pleasantly he greeted me and we went and sat in a corner. Before starting the discussion on the work, he asked for the menu, obviously not wanting the waiters hanging around while the
serious business was being discussed. He wanted to know whether I had any likes or dislikes, and when I said I had none whatsoever he proceeded to place the order, and it was apparent that he was very knowledgeable on the cuisine available and ordered some exotic dishes. At one point I was tempted to tell him that it was enough, but I remembered the old maxim I had been taught, that when in the presence of seniors "speak only when you're spoken to". Thereafter the assignment was carried out and I heard nothing more from him, presumably my report was discussed by him and Mr. Panditharatne and the firm would have billed him. A few months later, to my pleasant surprise I found that I had made it to his guest list for the famous Christmas party he hosts every year. During those days, it held at his residence down Gower Street, before he moved it to one of the main hotels. Every year, my wife Shiranika and I used to attend his party until she went to be with the Lord in 2002. My only contact with Merrill Fernando in those days was socially, because his professional work was done elsewhere. However, I seemed to be on all his guest lists whenever he hosted a function and both of us were also invited for the weddings of both Malik and Dilhan.
In 2001 I received a call from him stating that he had decided to set up the MJF Charitable Foundation and invited me to be one of the original Trustees. I was flattered and continue to serve this Foundation which grew to be what it is today. At the outset, there were the MJF kids at Bloemendhal and Maligawatte. Subsequently, massive properties were purchased in Moratuwa and so many diverse activities are taking place. It is such a joy to attend the annual concert and watch these differently abled and under privileged kids from all over the country perform so admirably. As a result I had more interaction with him because we used to meet regularly at Foundation meetings and other events.
In March 2008, I retired from the firm and almost at the same time, my daughters all married and left home to set up on their own. I was looking forward to a quiet retirement doing some charity and church work and reading Charles Dickens, Walter Scott and Jane Austen etc. Again one day I received a call from Mr. Merrill Fernando stating that he wanted to appoint two new directors to his company and offered the positions to me and Desmond Fernando. This was the first appointment I received as an Independent Director. Thereafter, when Desmond passed away Kumar Chitty replaced him. Board meetings are a real joy and enjoyable. We have quarterly meetings where his
fantastic memory and intuition are very apparent, and matters are gone into very carefully. At the end of the meeting, Malik, Dilhan and He with the two of us adjourn for lunch to his private lunch room. Healthy, tasty home cooked food is served 'hot hot'. We have a long discussion on politics (mostly), world affairs, religion, environment etc. There is much laughter and mirth and mid afternoon, the
family goes downstairs to continue work, whilst we are driven away to our homes.
In addition to the Christmas party for his friends, he has other functions as well, including one for his staff at one of the main hotels for which I have always been invited. In December 2016, though I had accepted his invitation, I was not feeling too well and two days before I rang and asked to be excused. Hearing about this, he called immediately to find out what was wrong, and I said I was not too sure but was meeting the doctor the next day. It transpired that I had been diagnosed with a faulty aortic valve and I had to undergo immediate surgery in Singapore as the TAVI procedure was not available in Sri Lanka. When Merrill Fernando called again to inquire how I was, and when I told him what was happening, he said that that Doctor was a good friend of his, and advised me to go immediately. When I went to Mount Elizabeth Hospital the next day, and walked into Dr. Siva's clinic, the first thing he said was "Merrill phoned me and asked me to take good care of you". Thereafter, until the procedure was done, he used to phone regularly, talk to the doctors and also talk to my daughters to check on me. This was during a busy period between Christmas and New year where he would have had many commitments. The operation was successful, and the God whom he and I worship made it possible for me to return
home in a few days and I was informed that I should resume normal activity and not hold back and only come for a check-up twice a year. That exemplified his caring considerate nature.
"This was during a busy period between Christmas and New year where he would have had many commitments."
The Foundation has done some unbelievable things, he had earlier built a hospital in Kayts and last year was building a new wing for the hospital in Point Pedro and since he was travelling, without delaying the project wanted me cut the first soil to enable the building work to continue. At the same time, we also did the same for a new building which he was constructing in Point Pedro on Anpuellam which was a unit run by the Roman Catholic church for students of any religion whose parents had to go to work and did not want the children to be left behind alone at home. They come in there and studies are supervised, meals provided until their parents pick them up in the evenings. On that trip we also went to the Deaf and Blind school in Kaithady where he was donating valuable equipment for vocational training. I was privileged to do the honours on his behalf. The work of the Foundation is well known around the country and I will not dwell on it. I wish to conclude by stating that I feel part of the Dilmah family, due to the kindness and consideration shown to me by the organization. May God continue to bless Mr. Merrill Fernando and give him many more years of good health. I always remember his favourite saying "We come into this world with nothing, and we leave this world with nothing. So let us do what we can during our sojourn here".