Rasika Nilanthi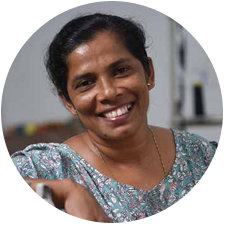 President, Walawa Kantha Ekamuthuwa
During the festive season, our profits hit its peak.
We are grateful to Merril J. Fernando for adding value to our skills and efforts through the Small Entrepreneurs Programme.
I am a self-taught seamstress who always had a passion for dress-making. In 2004, I set up my own production unit at home with 4 staff and started taking up orders for textiles. We started small but the orders kept coming in bulks as we progressed through the years. In 2014, The MJF Foundation established the Walawa Kantha Ekamuthuwa - a women's community-based organisation and recognised burgeoning entrepreneurs with a potential to grow their businesses. I was one of them. MJF Foundation's The Small Entrepreneurs Programme granted us 36 sewing machines that were distributed among the dressmakers in our village. Initially, we were a group of 6 women in our collective and I was chosen to take the lead. The support we received helped us take our dress-making business up a notch. Through our small business, we were able to provide income generation employment for many housewives in the village and create a working culture that enabled them to work from home while maintaining a balanced life that is economically productive.
Our collection continues to grow every year with more women joining our workforce. Over the last few months, we have been able to recruit the best talents and scale up our production significantly with new machinery and upgrades to our business model. With this expansion, the MJF Foundation further provided us with a loan for two high tech machines since it was a prime requirement for more efficiency and more productivity with greater profit margins. We get regular orders to sew and finish garments from various sources now. During the festive season, our profits hit its peak. As the president of Walawa Kantha Ekamuthuwa, I always try to see the ways we can build on our strengths and innovate for change. Business hits highs and lows but we have to continue in order to thrive in the industry.
"During the festive season, our profits hit its peak."