Dr. Rohan Pethiyagoda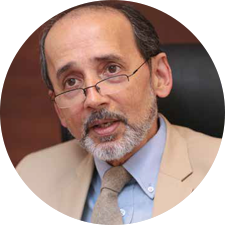 Former Chairman – Sri Lanka Tea Board
The Face of Ceylon Tea
The consumerist times in which we live have made competition for visibility on supermarket shelves, and for the attention of shoppers, a Darwinian struggle. It is red in tooth and claw, with no quarter asked or given. Brands have tried every ruse in the book to make themselves memorable to consumers. From flashy packaging to gigantic roadside hoardings and celebrity endorsements, we've seen them all.
Sri Lanka's best-known tea brand, however, does things differently. It places the beatific face of its founder front and centre of its brand. Thus it is that Merrill J. Fernando has become the face of Ceylon Tea. It is this face, in all its ecclesiastic sincerity, and his mellifluous voice, refined no doubt from much hymn-singing on Sundays, that consumers retain, imprinted on their minds, as they cruise the aisles of their local supermarket— whether in Sydney, Singapore or San Francisco. Who, after all, could doubt Merrill as he stands in the middle of a verdant tea garden, looking you in the eye and inviting you to try "my" Dilmah tea? By pinning his face to his brand, he has at a stroke done what brand managers only dream of: attaching his personal reputation indelibly to his company's product and imprinting this on the mind of his customers. The idea was a coup for Dilmah, a gift that's kept on giving, year after year.
None of that, of course, satisfies MJF. He has, additionally, set himself apart as the champion of pure Ceylon tea, arguing endlessly against the cheap imports that threaten it. This is the one issue on which he will not compromise. The national brew is, for Merrill, not a commodity of trade: it is an integral element of Sri Lanka's heritage, to be lovingly curated and passed on intact to future generations. When he refers to Dilmah as "my" tea, he means precisely that.
Importantly, he recognizes that that heritage carried a cost: the 200,000 hectares of montane rainforest that was mown down to make way for the island's tea industry in the colonial era. Such of that forest that still remains is now protected as UNESCO's Central Highlands World Heritage Site, almost all of which borders tea plantations. Alive to the fact that this nexus presents the tea industry with an opportunity to redress at least part of the cost we, as a nation, have paid to yield the prosperity that tea has given us, Merrill founded Dilmah Conservation, a foundation dedicated to the preservation and study of nature. More recently, aware of the threats a warmer and drier climate pose to the island's highlands (and hence also to its tea industry), he has diverted considerable attention to addressing climate change and its mitigation. Merrill J. Fernando's 90 years has thus been a force for good as few other lives can ever be. Sadly, there's only one of him. He must be cloned before we lose the recipe.