Yeshwant Desai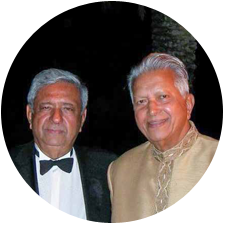 I recollect meeting Merrill in early 80s. We became good friends, the three of us including my wife, Rekha. ...........and the friendship has not only survived: it has thrived!
Once he visited my bank and showed me a few packets of Dilmah tea he had just brought to show me. Merrill said that he would be marketing these all over the world. I luaghed! "Are you planning to compete against Brooke Bond, Lipton and other such old established brands?" Merrill laughed, I laughed and history since has kept laughing at me!
10 years down the line Rekha and I were traveling in train in India. Sitting next to us was a Newzealander. We started chatting and he told us that he had just visited the Dilmah factory in Colombo! He said he also had the privilege of personally meeting Mr. Fernando and showed us his photos with Merrill. My friend had become a legend in 10 years! The Newzealander told me that Dilmah, Merrill, Malek and Dilhan had become household names in Australia and Newzealand!
20 years down the line I got a call from a friend's daughter in Muscat, Oman, "hi uncle Yeshwant, I just had the great opportunity to meet Mr. Fernando. He told me that you are his friend! You are so lucky, uncle Yeshwant ! Mr. Fernando is a legend!"
25 years and our friendship was tested: money was involved and Merrill made sure that all commercial and monetary terms were honoured! No cheating, no grabbing, all above board are Merrill's principles!
35 years down the line, Merrill was staying with us. A friend's Turkish wife was also visiting and when she realized that it was Mr. Fernando of Dilmah Tea she felt honoured to be in his company! She took a selfie with Merrill which was then transmitted to her mother in Istanbul! Apparently Dilmah and the family story is also well known in Istanbul!
So, what is new, I said to myself!
40 years past and we are still good friends! Both Rekha are looking forward to celebrating Merrill's 90th birthday. We hope and pray the virus does not play spoilsport!