Booth Family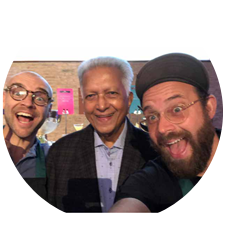 This trip went really well and deepened our love for the "little chaps
Merrill, you are a very special person, a true gentleman and gracious father. Much loved and respected by us all.
Dear Merrill,
Who was to know that our two families from different parts of the world would endure a very closing and loving relationship that has spanned over 50 years?
The connection was TEA,
Daddy being a tea buyer for the family supermarket - Booths.
Having been stationed in Colombo during the second world war Daddy chose to go back in the early 70's. with Mummy and friends Joan and Ken Snowden, for a visit/holiday. Whilst there, they attended a Consular function where Daddy met you for the first time and you kindly offered for them to stay in your plantation bungalow up country. Unbeknown to you both at the time, it was the start of a very long and close relationship and the joining of our two families.
In 1974, Cathryn on her world trip stopped off in Colombo and enjoyed a three month stay with your family, becoming very fond of Malik and Dilly who were very young at the time. A couple of years later, Deborah came over with the boys for Christmas and New Year and remembers the wonderful way you celebrated Christmas up country with turkey and New Year with the wonderful flowers at the entrance of the house and the firework display, especially the bangers!
You continued to meet with my parents when in the UK visiting The Crest on several occasions. Many discussions between you and our parents ensued re your boy's education. You were uncertain whether to send them to England, Ireland or India at the time. To make your choice easier, our parents offered to be their guardians if the boys were educated in the UK, a privilege they were happy to undertake for you.
We can remember when you visited The Crest in Penwortham with the boys and also visited the school that you had chosen for them. We had a great time with Malik and Dilly, visiting the local agricultural shows, miniature gardens, walks along the canals and frequent trips to the sweet shop on the corner of the high street! This trip went really well and deepened our love for the "little chaps".
You decided on Stonyhurst as it was nearest to our family home and enrolled the boys offering our mother a servant to live in to help look after them. Not the usual scenario for folk living in Preston suburbia!
Malik came over first and settled into school with Dilly coming over a few years later, our parents picked them up and brought them to our family home for all their exeats and for the infamous "Aunty Mavis's roast potatoes. The Crest in Penwortham and subsequently Gretaside in Tunstall were their second homes for the duration of their school life and beyond. We remember you visiting our homes on many occasions and what fun we all had.
As joint families we have shared some memorable moments – security guards arriving with "Grandpa and Grandma" at Gretaside who Mavis soon despatched off to Kirby Lonsdale. Most special occasions for both families have been jointly celebrated over the years, special birthdays, weddings, school presentations to name a few both in the UK and Sri Lanka. One memory that will always bring us a smile is when you would visit with the boys and would tell them to "come, come" as you walked down the corridors, in fact we started to say it ourselves and it became a family vernacular. Victoria remembers fondly visiting you in the flat in London, on one occasion taking you to Marks and Spencer's to buy your first ready meals for you to cook in your microwave and on other occasions giving you your first lessons on the computer so you could send emails.
You have such a busy and frenetic life but you and the boys still continue to travel north and visit Mummy and the family whenever you can. Although she is no longer the lynchpin to our family through ill health this special relationship is continuing down the generations. Your thanks and generosity to all our family knows no bounds, your kind gifts and best wishes still continue, even in Daddy's last years you provided a special chair for him which was so appreciated. As a family we have all benefitted from many trips to Sri Lanka where you and your family have always made time for us and made us feel so very welcome in your country
Merrill, you are a very special person, a true gentleman and gracious father. Much loved and respected by us all. We would like to wish you a very happy 90th Birthday and hope that our lasting relationship will continue for many years to come.
Our thoughts, prayers and blessings are with you at this special time and we send you much love to you on behalf of us all.