Chandani Kulatunge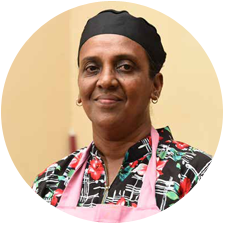 Culinary Instructor at the MJF Women's Development Programme
My life is so much better now
Communities prosper and countries thrive when women are empowered. Thank you, Merrill. J. Fernando for giving greater possibilities of growth to women like us through dignified jobs.
17 years ago, my husband was left paralysed after a heart bypass surgery. As a result, he had to leave his job as an Instructor at the Ports Authority and I became the primary breadwinner of my family. I started a catering service at home, playing the role of a businesswoman, wife and a homemaker while taking care of my husband and 4 children. In 2013, I joined the Women's Development Programme at MJF Centre Moratuwa as a Culinary Instructor. I started the first intake of classes with a group of 5 women. A year later, the number of students who came to my daily cooking classes kept increasing. Among them were young girls, housewives and single mothers who wanted to learn cooking as a medium to self-employment. I am happy to say that most of them have now turned cooking into a source of livelihood and earning a good income while providing for their families.
We are extremely grateful to work in a place that recognises our worth and values our work. Tekompaniet - Dilmah's partner in Sweden has been an immense support to us over the years. The company representatives donated WDP valuable kitchen appliances and provided us with efficient cooking solutions to scale up our business. There are days we start our work at 4 am in the morning. We always make sure we deliver our orders fresh in time. In addition to the regular orders we get on a daily basis, we also undertake massive batches of eatables for corporate events.

One of the blessings of this profession is that I've been allowed to pass on my knowledge to others while gaining something along the way. I learn a lot from the MJF Centre. The chefs at Empower Culinary & Hospitality School have taught me culinary practices that helped me improve my skills further. My life is so much better now. My husband
is recovered and currently works as a regional reporter for a weekly newspaper. My children are doing well in their lives. I have a supportive family who joins me in the kitchen when I receive orders during the Sinhala and Tamil new year. I have been told that I make the best Kevum (Oil Cakes) in town.
My life is so much better now.