Chef Gerard Mendis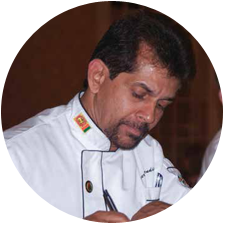 Chairman - Chefs Guild of Lanka Patron - Colombo City Restaurateurs Collective
At this golden age of 90 years, Mr Fernando never fails to compliment the Chefs Guild of Lanka
I am truly honoured to pen a few words in celebrating not only the success of Mr Merrill .J. Fernando in creating a world-class product like Dilmah Tea, but also his 70 years of hard work in establishing a brand that has helped Sri Lankan tea be recognised as a quality global product.
The Chefs Guild of Lanka has worked very closely with the Dilmah brand over the years, creating many wonderful concepts together such as Tea / Food Pairing Competitions, Tea Cocktail / Mocktail competitions, High Tea Live Cooking Competitions, and many training programs to help support the tourism industry.
Besides creating magic with tea and making a major contribution to the Sri Lankan economy, Mr Fernando is also well-known and respected for the time and energy he spends on creating a livelihood for the underprivileged in this country, providing them support to develop their skills and enhance the quality of life for themselves and their families. To this end, he has opened many vocational training centers island wide. I have visited the most recent complex built in Batticaloa a number of times and witnessed firsthand the opportunity rendered to youth in that area.
At this golden age of 90 years, Mr Fernando never fails to compliment the Chefs Guild of Lanka for the work we do and to assure me of his unending support. Dilmah has always supported us in our efforts to develop junior Chefs in the country. Today, our Sri Lankan chefs are world famous, having won gold medals at the World Culinary Olympics in Germany, the Culinary World Cup in Luxembourg, and many other global events. The Chefs Guild of Lanka is affiliated to the world body 'World Chefs' with a membership of 10 million Chefs from 120 countries, and Mr Merrill J Fernando was the first Sri Lankan to receive the Lifetime Achievement Award for his extraordinary
passion and commitment to tea at the World Congress in 2018. He remains, always, a pillar of strength to this industry.
On behalf of the Chefs Guild of Lanka, I would like to wish Mr Fernando the very best of health and happiness. I look forward to continue working closely with him and his dynamic sons, Dilhan and Malik, who have no doubt maintained the quality and standards set by their father and added their own expertise to strengthen the Dilmah brand even further. His legacy has never been more bright. Happy Birthday Sir and may God Bless You always.

At this golden age of 90 years, Mr Fernando never fails to compliment the Chefs Guild of Lanka