Dilani Gopi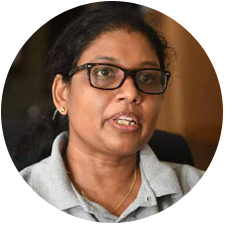 Centre Manager at National Centre for Children with Cerebral Palsy and Other Developmental Disorders
Merrill J. Fernando has touched so many families with his kindness. My family is among them. He inspires us to be positive, strong, and resilient.
My son Danush was diagnosed with Cerebral Palsy when he was 9 months old. As a child, he grew up in his home with the best care possible but society offered him very few opportunities to fully participate and play. Finding him a proper paediatric wheelchair that provided him with mobility assistance was a challenging task for us. It didn't take us much time to find out that Danush's IQ was great. As a child, he could comprehend things well and would use gestures to express his feelings. Gopi and I always kept Danush creatively engaged through visual learning. When his youngest sister started playschool, we did not want him to feel left out. So we started a small school in Wattala exclusively for children like Danush. Recognising the services we provided, Merrill J. Fernando extended his support to provide us with this facility in Rajagiriya to better serve the needs of children with disabilities. In 2016, the National Centre for Children with Cerebral Palsy & Other Developmental Disorders was opened to the public.
As a mother, I had to make many sacrifices to take care of my son. I had to leave my job in the Real Estate sector and let go of many opportunities that could have taken me to better places. But I never regret the chances that I missed out in life. When I reflect on it, it is because of Danush that I am on this chair today. It's been a journey of purpose. We work to promote independence, integration, and inclusion of all people with disabilities to lead a life with dignity. Through this, we also become a source of moral support to their families to get through their daily struggles.