G. K Karunasena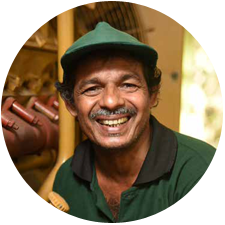 Electrician & Plumber at MJF Centre, Moratuwa
I have been with the MJF Centre in Moratuwa since 2011. I am familiar with these premises. This is right where the old Velona Factory used to be - a place where I worked for more than 3 decades.
I have years of experiences and expertise in machine mechanics & basic maintenance work. When the factory was shut down, I worked as a freelancer for a few years. Then, I was offered a job at the MJF Centre as an Electrician & Plumber. My service is essential to keep the Centre's operations running smoothly. I do my job with passion, precision and all my heart because I have been blessed, loved & respected by an amazing team of people at work.
I live in Kaluthara with my wife and 2 children. Dilmah granted scholarships to my daughter and son to continue their University Education. My eldest daughter graduated from the faculty of Engineering at the University of Colombo. My youngest is an Alumni from the faculty of Business Management at the University of Sabaragamuwa.
I would like to thank our Founder Merrill J. Fernando & Dilmah Family for being so appreciative and supportive in each step of my career and life. I wish MJF good health and happiness. We are doing better in our lives today because of him.