John Burton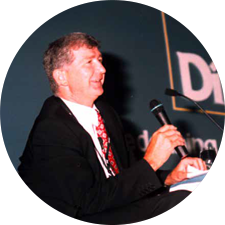 Dilmah Partner - New Zealand
I have been in partnership with Merrill in New Zealand for over 30 years. We first met in the late 1960's as he worked with my father to supply Sri Lankan bulk tea into the New Zealand market. Merrill used to stay at our home during his visits here. His favourite meal was the Roast Lamb leg followed by a desert of Mum's pavlova.
Then in 1986 when I set up my own business, he agreed to work with me in supplying House brands for our supermarket chains and bulk tea to the 2 remaining tea packers. In the late 1980's, he convinced me to help him launch his new DILMAH brand. I was 29 years old and he was 56. Most men at this age are looking to retirement – but not Merrill, he was just starting. He was incredibly focused and driven to make the Brand successful.
I really thought that we would struggle in a market full of traditional brands. Having launched firstly in Australia two years prior, we used their television ads and slowly we build some traction. Six years to get 5% market share and then we started to grow. It took about 25 years to become market leader and even now we keep getting stronger with close to 30% market share.
Merrill was hard and demanding, but he was fair and honest. When I became a paraplegic in 1995, he supported me through rehabilitation and never once doubted that I could still do this from a wheelchair.
Merrill liked racehorses and was convinced each one we invested in would win the Melbourne Cup. Trainers saw us coming and knew we were not experts in picking horses. They sold us all sorts of horses and I am convinced that some are still running twenty years later. We should have dug a hole in the ground and poured money into it.
Merrill was also convinced that he knew what the supermarket buyers wanted. In our first meeting with Woolworths NZ we were thrown out and told not to come back. They were convinced the Brand wouldn't work and they wanted a listing fee from us, of which we refused to pay. It was months before I got to see them again.
It is a different story if Merrill comes to New Zealand now. In 1995 we started using him in the television ads and that is still happening today. Everyone knows him, from the Customs Officer to all our Politicians. Even our Prime Minister will have him round for a cup of tea. Then all the customers in the street will say hello. They recognise him and respect him because he does what he says and stands by with a quality product. Last year, one of our university's bestowed upon him one of their highest awards, an Honorary Doctorate. They recognise what Merrill has done in Tea Industry and his philanthropic work.
I have a tremendous respect for Merrill and his family. They are all part of our business and family lives and we have already moved into the next generation that will carry on his mantle.