Lalitha Fernando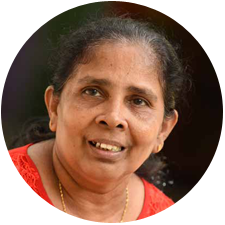 Member of Swashakthi Women's Cooperative
Over the years, I have been able to gradually develop my confidence,
I appreciate what our Founder Merrill J. Fernando is doing to economically empower vulnerable women like me through the Women's Development Programme.
I was a housewife for the most part of my married life. As we muddled through financial struggles, I figured that I should do a job and contribute to the household income. In 2012, I joined the Women's Development Programme (WDP) at MJF Centre, Moratuwa with the hope of finding an avenue through which I could find employment opportunities. I took up Miss Chandani's cookery course and within a few months, I was able to learn many skills that made me well-equipped to try out any dish - from local to international cuisine. I never knew how to make Biryani, Spaghetti or bake cakes before. But now, I can cook for a crowd, take up any recipe and whip up something great!
I am one of the oldest members of the Swashakthi Women's Cooperative. As a team, we engage in our daily bakery production and catering orders for Swashakthi Bakery and Tea Room. We are always looking for ways to better serve our customers with healthy, nutritious meals at an affordable price. We have regular customers who drop by SBTR for breakfast & lunch and our evening action station to try Hoppers, Wadey or their favourite Dosai. The WDP unit at MJF Centre Moratuwa is a safe space for women to build connections with each other and learn valuable skills that can generate an income. Over the years, I have been able to gradually develop my confidence, self-esteem
and culinary skills as part of my journey with the programme. My husband passed away 3 years ago and I became the sole income provider for my family. My daughter got married recently and now I live with my only son - supporting his education from my earnings. I live a life with fewer complaints now.