Leelawathi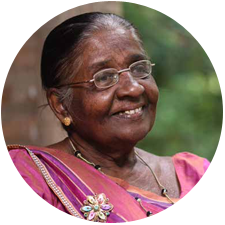 Fomer Secretary of MJF Gami Aruna, Pahalalanda, Ampara
The Small Entrepreneurs Programme uplifted people in Pahalalanda with unwavering positivity. We are grateful to our Founder Merrill J. Fernando for reaching out to far-flung villages like ours to mobilise communities through establishments like MJF Gami Aruna.
The inhabitants of Damana Division of Ampara District depended on the surrounding forests for their livelihoods for many years. Many of them were farmers whose lives were caught in the conflict of wild elephants. They battled drought, diseases and floods to sustain their families. Life hasn't changed much since then. Most of the villagers today are daily-wage labourers who are trying to scrape up living with the little they have.
After my marriage in 1976, I came to Pahalalanda to start a new life. I saw the struggles people had to go through every day and I wanted to make a change. Over the years, I have held many active roles in community-based projects, women's cooperatives and village councils. Unity is the way forward. I believe that if we work together to revitalise communities, we can rebuild their lives and overcome many challenges. I have been with MJF Foundation's Gami Aruna for a long time. I was the former secretary and I still serve as a member, providing my contributions to address the needs of our communities and find ways to improve their living. I admire the work they are doing to unite people and empower them to move forward as entrepreneurs.