Mike Dormer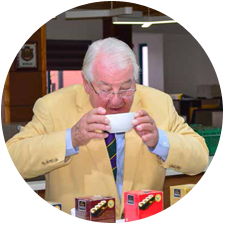 Richard was receptive to the idea and did everything within his power to ensure that it was successful. Regretfully the earthquake in 2011 had other thoughts. On further visits to Christchurch the Dilmah High Tea afternoons took place at Mona Vale and were well attended. In fact people ask when the next Dilmah High Tea is to be held?
With the pending celebration to recognise your 70 years in the tea industry whilst at the same time celebrate your 90th birthday, it
gives me great pleasure to submit the following which encapsulates the time when my father first entered the tea industry in New Zealand through to some modern-day reflections

"Thy Hand Has Guided ...." In 1926 my father, Orm aged 22, entered the tea industry by working for the Bell Tea Company in Dunedin followed by other tea importers in New Zealand, and finally established his own company in Wellington. This involved: tea tasting, importing from Ceylon, blending, packaging and distributing to the retail trade throughout New Zealand. As fate would have it we found his last shipping register, an extract of which is shown below, relating to importing tea from Merrill J Fernando & Company Limited!
On 26th October 1994 The Willows Cricket ground was opened by Walter Hadlee, captain of the New Zealand 1949 cricket tour of the UK.

On Saturday the 29th March 2008, you arrived in Christchurch with Nigel Scott and kindly joined Winsome and me for lunch at our Rlccarton home. You took a quick nap thereafter. At 4.00pm I woke you to advise that you would be dining With their Excellencies Sir Anand Satyanand, GovernorGeneral of New Zealand and his wife Lady Satyanand, at The Willows Cricket Club dinner in the Grand Plaza Hotel that evening-you appeared very surprised! A very pleasant dinner ensued with past New Zealand cricket team members present together with a team of school boys who were to play a fixture at The Willows Cricket ground the following day. Together with Thetf Excellencies you attended this fixture and spent the day at the ground during which time a very close association was formed with Sir Anand. He has remained a very firm and loyal supporter of yours since. During the afternoon you asked the question "Mike, what are you trying to achieve!" My reply was to seek a possible liaison, where, through cricket, the youth in Sri Lanka and New Zealand could be brought together, encouraged and developed as part of their fledging playing careers. Your response was let me consider arid you certainly did this and responded appropriately.
The first tour to Sri Lanka by a Willows youth team took place in August 2009, followed by a further six tours where The Willows side was selected and managed by Paul McEwan, a former New Zealand representative and sentormember of The Willows. A reciprocal Under 21 year old Sri Lanka side toured Christchurch for a five match toursome five years later and we hope this will be repeated in the
near future. Following discussions with Richard Ballantyne, the Managing Director of JB Ballantyne and Company, you attended the opening of the Dilmah Tea Lounge here in October 2009. JB Ballantyne and Company anchors the retail scene in Christchurch having done so for over 100 years. Richard was receptive to the idea and did everything within his power to ensure that it was successful. Regretfully the earthquake in 2011 had other thoughts. On further visits to Christchurch the Dilmah High Tea afternoons took place at Mona Vale and were well attended. In fact people ask when the next Dilmah High Tea is to be held? Over the six year period 2008 to 2014 the association between you, Dilhan^and Malik with Christchurch personnel, Willows Cricket Club members and of course Their Excellencies in Wellington has Mossomed to a stage where through your attributes of honesty, fair play and Christian beliefs you have been recognised and respected by all who have met you*
A consolidation period led to the establishment of the Cricket Live / Life Skills Academies in Sri Lanka. In January 2014, Alex Reese, then aged 22, attended ah MCC Tournament in Chandigarh, India. Subsequently his vision to establish these academies, in depressed areas of Sri Lanka and slums of India evolved. You kindly met with Alex to discuss the proposed project and after due consideration agreed to assist him through your MJF Foundation and the first academy was established at Moratuwa situated some half an hour from Colombo. On a visit to the school in June 2019 my question to the headmaster Was "Has this academy been successful" to which he answered "Before Alex arrived the exam pass rate here was 20.196 but since the introduction of the academy it has risenp 53.4%" - what a remarkable turnaround. Surely not only a tribute to you Merrill and your Foundation but to the considerable amount of work which
has been devoted to the project Now, close on 700 youngsters who for a three year period have attended one ofthe three academies established. I was overcome with emotion with the response I received from the children knowing of their backgrounds and the progress
that they had made whilst being under the supervision of the MJF Foundation. It was also a great privilege to attend your Centre caring for cerebral palsy and Down Syndrome personnel also situated in Moratuwa. Merrill, you have established a true family company
with contacts and friendships created and built in many countries outside of Sri Lanka. So you see Merrill, "Thy Hand Has Guided ...." has been overseen by the Great Architect of the Universe where your vision, work ethic and the support of your two sons has brought many people together through tea, cricket and charitable interests within our two countries. We both must acknowledge and ensure your vision and values continue well into the future by family and personnel involved within our respective organisations. Thank you Merrill for your valued friendship, for your Christian guidance and goodwill for which you deserve to celebrate in
fine spirit over the 5th, 6th and 7th of May. With warmest regards and best wishes