Nipuna Fernando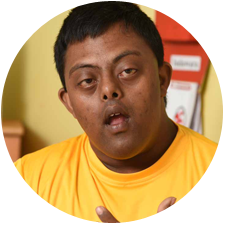 Entrepreneur, Student at MJF Rainbow Centre, Moratuwa
Nipuna is a charming young man who's living life to the fullest. Born with Down Syndrome, Nipuna turned his talent into a business venture a little over a year ago. His journey with Dilmah's MJF Centre has been nothing short of amazing. Having attended Dilmah's MJF Foundation since he was 19 years old, Nipuna found the courage, support and heart to nurture his talent and follow his dreams.

I want to be like our Chairman one day. My dream is to be a successful entrepreneur and start my own company, " says Nipuna with a big smile on his face. Nipuna has a great admiration towards Merrill J. Fernando. His mother says that MJF is his role model who inspired him to aspire the life he wants to live. "Nipuna dared to dream, and never stopped believing in his ability to achieve the endless possibilities that life brings him. Once he sets his mind on something, he gets it done. Ever since he was a child, he always wanted to get up. He was never the person to give up. The Legend of King
Dutugemunu, his Ten Giant Warriors and Kandula- the War Elephant captivate Nipuna. He looks up to figures who define power, valour, grit & strength - exact traits that happen to manifest in his character. Nipuna also has a particular fascination with Politics and never misses to read the papers to keep himself updated on current affairs.