Nishanthi Amaratunga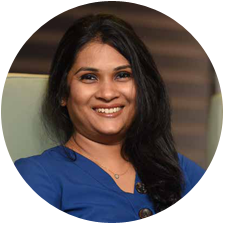 It is an honor and a privilege to pen these few words and to be a part of this special publication commemorating Mr. Merrill Fernando's 90th Birthday and 70 years in the Ceylon Tea industry. To have personally associated with him for the last 20 years of his journey has been both, humbling and life-changing
He possesses a mischievous sense of humor and many ofus often share our own tales of that famous 'MJF' wit.
All of us are well aware of his contribution to the tea industry and therefore, I'd like to focus on perhaps the lesser known aspects of Mr. Fernando,which only those employed by him would be privy to. Working with Mr. Fernando is often a challenge because he is a hard taskmaster and the deadline for every task is "yesterday". To make life even tougher for us, he is not someone that only sees the big picture, but also the most minute detail within the picture! Details that we often miss. He never loses focus on the basics and never misses an opportunity to make continuous improvements and changes for the betterment. Recently, I showed him a regular proforma invoice
for his input on the products and pricing, but, in the process, he identified areas for improvement in the format of the invoice! He himself called the IT department and wanted it amended immediately. Such is his attention to detail. All of us are well aware of the risks of going to him with a negative response, especially if it relates to limitations and constraints caused by systems, processes and even regulations. Getting the job done is his single-minded philosophy and he will impose his will and vision to enforce whatever changes are required to achieve that objective. This in turn requires us to always think out of the box and not accept the status quo.
Travelling overseas with him has always been a great pleasure and a learning experience. Even though he is completely task-oriented and focused on the purpose of his visit, he never fails to guide and take an interest in our personal development. He makes sure that we also experience the cultural side of the countries we visit, be it viewing worldrenowned ballets and operas, or visiting historysteeped buildings and architecture. On our recent visit to Gulf-food 2020, it was amazing to see the energy and dedication he still has towards the business, as he closes in on a sprightly 90-years of age. He attended the fair every single day and sat through and took control of all the meetings. He personally greeted and welcomed each and every individual who visited the stall, irrespective of what their interest levels were. He would only get to lunch by around 4pm most days, and that too, eaten in the tiny goods-laden storeroom whilst standing! This is not something one would expect to see from the Founder and Chairman of Sri Lanka's most well-known international brand! Of course, Mr. Fernando is not just all work and no play! He possesses a mischievous sense of humor and many of us often share our own tales of that famous 'MJF' wit. On one overseas trip, he developed flu-like symptoms and did not have medication with him. He could not recall the name of the medication that he would normally use, so we wanted to call Dilhan, who was in Sri Lanka, and get the information from him. However Mr. Fernando did not want Dilhan to know that he was unwell as he might worry and summon him home. So, he called Dilhan and said, "Dilly, Nishanthi has got the flu; what is the medication I take when I get the flu?" Dilhan fell for it and gave him the name details! On a personal note, there are many instances that stand out as examples of Mr. Fernando's genuine concern for his employees. When I was still fairly new to the company, I invited him to my wedding, but he was unable to attend as he was overseas on a family vacation at the time. A couple of weeks later, on the very morning of his return to office, he summoned me and congratulated me on my wedding and handed me a gift. I was caught by surprise as I thought this would have been the furthest thing on his mind as he returned to work. The fact that he did remember made a great impression on me. It was an early lesson I learned from Mr. Fernando, on not letting the big things in life obscure the small, be they in relation to business or people. The discipline and attention to detail he has in this regard, and the importance he pays to this aspect, never fails to amaze me. Later, when my daughter had to undergo a serious operation at the age of one, which was traumatic and every parents' nightmare, the concern and assistance offered to us by Mr. Fernando is something that my husband and I will be eternally grateful for. Even to obtain a visa for my family to visit Australia, given the stringent visa conditions, and given Mr. Fernando's reputation in that country, I requested for a supporting letter of recommendation from him. Not only did I receive that recommendation, but Mr. Fernando also gave his personal guarantee of my returning, as well as made supporting phone calls to relevant people so as to ensure that my visa application would never be rejected. This was way above my expectation, and these are just a few examples of Mr. Fernando's kind and caring nature for which I will always remain grateful. To conclude, it has been a truly great blessing to have the good fortune of working closely with Mr. Fernando. The steep learning curve has not just been about business practices, but life itself. He has been a mentor at all levels and has played a central role in shaping my development from both, work ethics to human values. Thank you, Sir, from the bottom of my heart. "He possesses a mischievous sense of humor and many ofus often share our own tales of that famous 'MJF' wit."