Nishanthika & Upul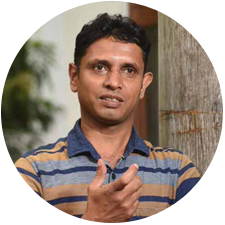 Malmee Products
The MJF Foundation has been a tower of strength, support for small business holders like us to take that step forward
The future of organic food seems bright and sustainable with more and more people switching to much healthier, preservative-free natural food & snacks. At Malmee, we are continuously finding ways that can help us improve our quality of products to meet the needs and standards of the international market. The MJF Foundation has been a tower of strength, support for small business holders like us to take that step forward.
My husband left his job in the private sector to start his own business. He had a training in a range of cost-effective and practical methodologies which were designed for potential and existing SMEs in Sri Lanka. We took a small loan and ventured into a business. In 2007, we first introduced our brand - Malmee Products to the market with our range of fresh fruit jams and jelly. A year later, we expanded our products to Banana Chips and Milk Toffees. They did well in the local market. During this time, we were recognised by MJF Foundation's Small Entrepreneur Programme. They offered us a grant to build a separate production unit to manufacture and package our products. In 2017, we opened this facility with a team of new workers.
We live in an area where banana plantations are already abundantly available. But, most of the people here do not know the possible sources of income that bananas could bring them. Through our business, we have been able provide around 60 local farmers a good value to their fruits. We source only a particular variety of organic bananas for our chips. In the beginning, we started with 350 bananas per day. Now that a production facility with a new set-up is in place, we have managed to expand our production to a staggering quantity.
We have been coming to the Monthly SEP Sale at Dilmah Head Office for almost 8 years now. We bring our usual line of Malmee products along with Palm Sugar, Kithul Treacle and seasonal fruits and vegetables. There are days we earn an income of around Rs. 70,000 from one day. Our Banana Chips sell out super fast!