Paul J. Moughan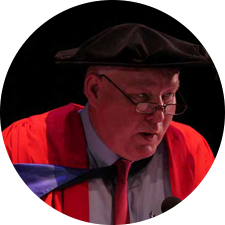 Distinguished Professor , Massey University
In late 2019, Massey University awarded Merrill Fernando its highest honour: Doctor of Science (honoris causa). The following are excerpts from the nomination statement submitted to the University, where the proposal to confer an honorary doctorate received unanimous support. Dr Fernando has been a true friend and supporter of New Zealand and Massey University and of me personally.
Mr Merrill J Fernando is an iconic figure in the New Zealand Food Industry, and virtually a household name within the wider New Zealand. He has made sustained efforts to develop verticallyintegrated tea production (a first within the industry) and has very successfully marketed his Dilmah tea products in New Zealand and globally. Based in Sri Lanka, he has visited New Zealand on a frequent basis and has been generous with his time and knowledge, to the benefit of the wider New Zealand food industry. It is highly appropriate that Massey University, with its strong historical linkages to agriculture and food, would honour this remarkable individual.
Merrill Fernando's connections to Massey University specifically, go back to the late 1990's, where over a six to seven year period his company funded research into the health properties of tea. Mr Fernando took a real personal interest in the work and visited the University to meet the staff and PhD scholar involved. Through the study he met up with me personally on several occasions, always gracious and highly supportive. The work was ambitious and evaluated the effects of tea cultivars, growing conditions, and processing methods on the anti-oxidant properties of tea. As always, Merrill was striving for the highest quality product and a marketing "point-of-difference" Merrill was engaged in the work, and his financial support was generous.
Of perhaps even greater importance, however, is how Merrill Fernando has used his wealth for the betterment of human kind. The Dilmah group, driven by Merrill is widely applauded for its leadership in "fair trade" and "ethical food production".
A case has been made for a man of great integrity and passion, who has made a real difference in the New Zealand Food Industry, has supported and engaged in Massey University science, and has been an exemplar globally for the execution of ethical food and beverage production.