Rohan Fernandopulle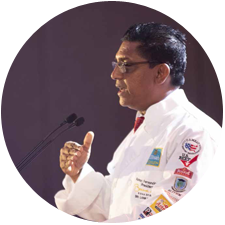 Governor, Empower Culinary and Hospitality School
Merrill J. Fernando is a great human being. I came to know Mr.Fernando for the first time upon joining the hospitality industry about 3 decades ago. Despite continuing on separate career paths, in two different industries, we still have a close relationship which I am grateful for.
To date there is no other person I have encountered who has dedicated their entire life, with so much care for a single product. For this ineffable dedication, I consider him the God Father of Ceylon Tea and a Legend. His passion and dedication to share authentic Ceylon Tea with the world, has also promoted Sri Lanka as a travel destination, which is something I feel all Sri Lankans can also be grateful for.
He has a big heart. In fact, during this global pandemic, I was surprised when he personally called to check up on my family and I. He need not have called and checked on my wellbeing, I feel it was me who should have called him in the first place! His acts of kindness have never ceased to amaze me. I have been fortunate to witness how he has personally helped the less privileged and the poor on so many occasions. Helping another is truly an area very close to his heart, in thought and more in deed.
In the past we have worked together in developing recipes, using tea as a cooking ingredient. He truly is a trailblazer for his innovations in tea because he is one of the first people in Sri Lanka who taught me that tea can also be enjoyed on a plate!
Merrill Fernando as a father is an exemplary figure. Here again, I have observed him pass on great human values to his sons, Dilhan and Malik. The proof is in how Dilmah is performing today. Going beyond just a product, his sons have taken Dilmah to another level, and for this he should also be a proud father. Throughout my life, I have witnessed first-hand how he places God first, from the decisions he makes, to accepting his praise, he ensures to always give glory to God. He is truly a God-fearing man by nature, and this quality makes him a great human being.