Thomas A. Gugler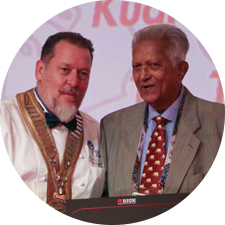 Worldchefs President
To my dear and good friend Merrill,It's my biggest desire to wish you from the bottom of my heart a happy birthday and many more years to come. You are a role model of man who made his way based on hard work and his dream, you achieved what you wanted and did more and more.
I believe your big passion for tea, the love for human beings and their support with your charity driven thoughts making the difference between you and many others. You have a fantastic family and a great team behind you. Chapeau Merrill.
In addition to this I want to thank you first of all as your friend, as your colleague and as the WORLDCHEFS President for all the amazing times you created when we met and the most important thing is as well, how much and thigh the cooperation, the partnership and sponsoring in regards to WORLDCHEFS and Dilmah went and lasted.
The healthiest wishes for a long and happy life with friends and family around you, the wishes from all the continents and from the entire membership of WORLDCHEFS form the Board of Director and the Executive Committee to the "Grand Master of Tea" and for me personally "the Tea Icon of Sri Lanka".
God bless you Merrill and I am looking forward to see you somewhere around the world to congratulate you physically and personally with a nice glass of "Ice Cold Dilmah Tea" of my favorite selection, the morning glory.
Your friend and colleague.