Vajira Karunathilake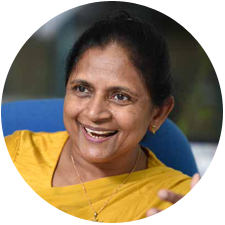 Head of Quality Assurance at Dilmah
You can see the kindness in him in his eyes, his smile, his walk, his talk, his laughter, his gestures.
I still recall my first interview with the Chairman in 1991. We had a long conversation and I was fascinated by his profound knowledge in every aspect of his product and its quality. At the interview itself I understood Chairman's concerns about what he expects in terms of quality. It was not just quality to satisfy the customer but beyond that with continual people and process development along with innovative improvement. He wanted us to maintain very high level of standards in all aspects of our products during each processing stage. He always expected perfection and anticipated positive outcome. I thought if we were to meet his quality expectations
we had to do something different. During my early stage at Dilmah, I was so fortunate to work directly under the guidance of our Chairman from whom I understood his quality focused strategy and concepts directed towards achieving his vision which finally led us developing all quality control systems . Even though it was really a big challenge at that time, our Chairman's commitment and burning desire for perfect quality in everything was the driving force for my first formal move to set up quality control activities through the introduction of various different inspection and testing methodologies. His passion of combining traditional ideas in to new strategies guided us to continually change our quality and food safety systems aligning to the rapid technological developments and its environment.
Our Chairman , Mr.Merrill J Fernando emphasized prevention rather than detection and as a result we started stepping up towards focusing on Quality Assurance Management systems aligning to the Quality Control activities. With the strong quality culture created by the Chairman, I too got the opportunity to involve in establishing QA department activities to support the quality effort of the founder and thus we were able to proceed towards the direction he showed us under his leadership, his personal involvement and guidance from which I could enhance the level of my selfconfidence considered as an essential tool for effective performance.
From a Junior Executive to the Head of Quality Assurance, I have been able to grow in my career You can see the kindness in him in his eyes, his smile, his walk, his talk, his laughter, his gestures." " 110 under the patronage and influence of Mr. Merrill J. Fernando. As part of my role, I worked to maintain our Chairman's expectations of standards and was allowed to contribute to every component of the company's quality and food safety.
The Founder's devotion to tea and commitment to making business a matter of human service are exemplary. His visionary ideas heralded a change in the tea industry, business culture and our collective perception of what is possible. In retrospect, it is remarkable how ahead of the curve Chairman was on concepts like innovations and sustainability - which are highly relevant business models today. Mr. Merrill J. Fernando is a gentleman of estimable character and virtue who would appreciate even the little things in life - like dedicating his time to write a thank-you note or responding to a message with a personal touch. I was lucky enough to observe and learn from his countless acts of compassion and generosity towards his staff and the community which demonstrated that the true path of happiness comes only by sharing one's blessings. His positive attitude and nobility set an example to all of us and made us look up to him in both our professional and personal lives. I believe his influence makes me want to be a better quality professional leader, if not a better human being everyday.
In fact our Chairman's creative, positive and accurate thoughts with his strong deeply rooted passionate desire and definite chief aim of promoting FINEST QUALITY CEYLON TEA with his imaginative power and degree of wisdom blended with his pleasing personality had brought
us everything. Every stage of his life is crafted with utmost care and perfection. You can see the kindness in him in his eyes, his smile, his walk, his talk, his laughter, his gestures. His dignified presence and friendly disposition are what draws us closer to him. There is a lot to be thankful for. It was absolutely a great experience for me to work in an Organization like this. I consider it to be absolute privilege and fortune. I offer a sincere and heartfelt gratefulness with a very big "THANK YOU" to our honorable Chairman for all the GREAT things ".

You can see the kindness in him in his eyes, his smile, his walk, his talk, his laughter, his gestures.